SensorXpress - Scalable, Simultaneous High-Speed RF Data Recording and Distribution
Extend Time-on-Target at the Widest Instantaneous Bandwidth
for Your Intelligence, Surveillance, and Reconnaissance (ISR) and RF Systems
SensorXpressTM - High-Speed RF Data Recording and Distribution
in Formats Such as Raw I/Q and VITA 49

SensorXpress — RF Data Recording and Distribution
High-Speed, Scalable, and Simultaneous Recording and Distribution
at up to 100 Gbps in Formats Such as Raw I/Q Data and VITA 49
Increasingly demanding Signals Intelligence (SIGINT), Electronic Intelligence (ELINT), and Electronic Warfare (EW) missions create exponential volume and velocity of RF data across space, air, sea, ground, and in tactical environments that easily overwhelm storage and analysis systems. SensorXpress enhances the performance of your existing analysis applications by simultaneously capturing, storing, and distributing RF data in an extremely small form factor: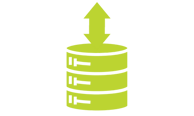 High-Speed RF Data Storage from Collectors
Extreme high-speed RF data storage solution for formats such as raw I/Q or VITA 49 from any RF collector or sensor.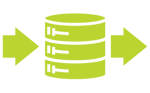 High-Speed Distribution to Analysis Applications
Simultaneous RF data storage and distribution to any number of analysis applications via multiple, independent analysis streams for real-time or selective on-demand analysis.


Unique Capabilities for Any Mission
Monitor

broader electromagnetic spectrum in real-time and extend time-on-target.

Record

more spectrum for longer periods of time.

Collect and store

more spectrum data for post-mission analytics during forward tactical operations.

Dense formfactor

for disconnected or non-tethered operation during forward tactical missions.
SensorXpress - Comprehensive Visibility
Simultaneous Capture, Storage, and Distribution

Next Generation SIGINT/ELINT Data Collection and Management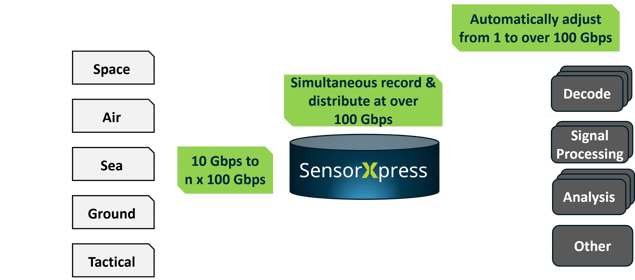 SensorXpress

Capabilities Beyond a Wideband Recorder

Capture & Distribute Any Time-Series Data
Spectrum, sensor, analysis application, and vendor agnostic – enhancing your existing RF data analysis deployments.

No-Loss Capture and Distribution at Any Speed
Simultaneous recording to disk and distribution from disk at over 100 Gbps – lossless!

Controlled and Repeatable Signal Data Distribution
Unlimited streams to multiple analysis applications - directly from disk at over 100 Gbps.



Configurable, High-Speed, and High-Volume Storage
Extensible data storage for hours or months, with 720 Terabyte in just a 2U chassis.

High-Density With Extreme Low Size, Weight, and Power
Configurable and optimized from mobile operations to static data center deployments on commercial-off-the-shelf hardware.