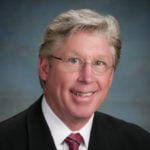 Mike Wall
Board Director
Mike Wall is a hi-tech executive with a history of leading the introduction of new technologies that have changed the landscape of high performance computing, storage solutions, and healthcare. Mike was executive chairman of Amplidata before becoming its CEO in September 2012. Amplidata developed the world's leading object storage software for large scale cloud deployments. Mike sold Amplidata to Western Digital in March 2015. Prior to Amplidata, Mike was president and CEO of storage innovator Atempo, which was sold to the Allen Systems Group in December 2011. As CEO of DICOM Grid, Mike turned around an angel funded healthcare IT company and raised over $15M in financing from several venture capital firms including Canaan Partners. Mike was the founding member of the management team that launched Intel's storage business and, as general manager of their Storage Group; led the industry's transition to systems designed with commodity microprocessors and chipsets, growing Intel's storage business to over $500M annually. Prior to the storage business, Mike was General Manager of Intel's Supercomputer Systems Division, where he led the introduction of Intel's X86 architecture into the high performance computing market. These systems were the predecessors of enterprise servers and workstations deployed throughout the world today.
Before joining Intel Corporation, Mike was general manager at Cray Research, responsible for North American Operations. While his responsibilities included all market segments, he led the introduction of high performance computing into the world of high finance. He also held several marketing management positions at IBM in New York City.
Mike earned his Bachelor's degree in Economics from the State University of New York at Stony Brook and completed his Masters of Management Sciences, Averill Harriman College for Urban and Policy Sciences, at SUNY Stony Brook.