Events




for Cyber Security and Network Intelligence
Education and collaboration is important in the cyber security industry with bad actors changing the landscape on a daily basis. Whether you join us at an event we are hosting or connect with us at an industry event, we aim to empower security professionals with the knowledge to secure their organizations in the best possible way. We hope to see you soon.
Join Us At These Cyber Security Events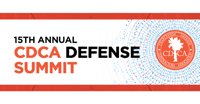 CDCA Defense Summit
December 7-8, 2022
Charleston, SC
The CDCA Defense Summit is one of the largest defense-focused events on the East Coast, bringing more than 1,600 Government, Military, Academia and Industry leaders together to better understand and address today's technology challenges within our Defense Industry.
Grow Your Cyber Threat, Forensic, & Incident Management Skills
Join our sponsored podcast, MilCyberSync, as Nick Thomas and Cyber Security and SecOps experts discuss cyber threat topics each week. MilCyberSync brings you the latest news and insights from the intersection of cyberspace and national defense.
Stay Informed About Network and Security Intelligence
Subscribe to our Newsletter.